Speaking Circles®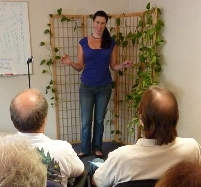 When:
3pm - 5:30pm,
3rd Sunday of every month
Where:
4 Gates Wellness
Who:
Nancy Wilson
Cost:
$25*
---
Find your authentic voice and in the process discover presence, ease and clarity in your self-expression. Speaking Circles® is an approach to public speaking grounded in authenticity and connection—connection to self and connection to one's audience. In a safe, supportive setting transform self-consciousness into self-confidence, learn to listen more deeply, and access your innate magnetism and natural speaking style. Based on the work of Lee Glickstein, who overcame decades of severe stage fright, this heart-centered, relationally-based approach is an antidote to the resistance to being seen and heard for who we really are. If you suffer anxiety in front of groups, are a social change agent with a message to share, or authentic connection and trust in your professional and personal relationships is especially important, Speaking Circles® are for you.
*$25 per session or 9 sessions (within a 12 month period) for $185.
For more information and to register, contact Nancy Wilson at 443-545-9113 or nwilson1412@gmail.com.
---
A little about Nancy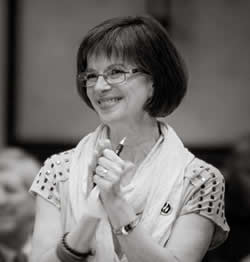 I originally sought out Speaking Circles® in 2001 after choking up from overhearing a conversation about a "Voice Your Vision" workshop and realizing I felt I had no voice with which to even voice a vision. A year and a half later, facing the prospect of moving across the country to Maryland, I became a certified facilitator trained by Lee Glickstein, founder of Speaking Circles International.
With 20-plus years in corporate financial management and equally as many as a student of human potential, I bring a broad perspective to my classes and workshops. As a transformational life coach, group facilitator, and holistic health coach, it is my privilege to help empower individuals to move into fuller, freer, more expansive lives.