Fall Qigong Workshops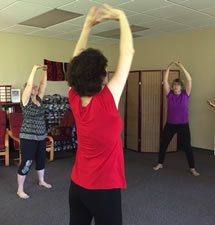 When:
12:00pm - 2:00pm,
Aug. 20, Sep. 17,
Oct. 15, Nov. 19
Where:
4 Gates Wellness
Who:
Chris Morris
Cost:
$20 per session
---
These two-hour workshops are designed to help you relax, de-stress, and get your qi (energy) flowing. Each workshop includes the significance of the season from a Chinese medicine perspective, qi self-massage and other energy medicine tools, qigong practice, and seated meditation.
Qigong (pronounced "chee-gung") is a 4000-year-old form of meditative movement related to tai chi that has documented healing benefits — including stress reduction, a strengthened immune system, improved balance, and improved sleep. Come see what it can do for you!
Chris Morris, Ph.D. is a Certified Qigong Instructor who loves to share this meditative movement practice that has made such a positive difference in her life. For more information about Chris and qigong, go to www.peacefulqi.com.
The cost is $20 per session, payable by check or cash at the door. Maryland Food Bank donations welcome. For questions and to register, please contact Chris at 443-520-3973 or chris@peacefulqi.com